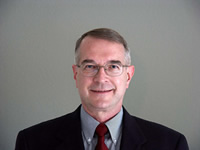 Dr. Robert Doering / Texas Instruments
Dr. Doering is a Senior Fellow in Silicon Technology Development at Texas Instruments. His primary area of responsibility is Technology Strategy. His previous positions at TI include: Manager of Future-Factory Strategy, Director of Scaled-Technology Integration, and Director of the Microelectronics Manufacturing Science and Technology (MMST) Program. The MMST Program was a 5-year R&D effort, funded by DARPA, the U.S. Air Force, and Texas Instruments, which developed a wide range of new technologies for advanced semiconductor manufacturing. The major highlight of the program was the demonstration, in 1993, of sub-3-day cycle time for manufacturing 350-nm CMOS integrated circuits. This was principally enabled by the development of 100% single-wafer processing.
He received a B.S. degree in physics from the Massachusetts Institute of Technology in 1968 and a Ph.D. in physics from Michigan State University in 1974. He joined TI in 1980, after several years on the faculty of the Physics Department at the University of Virginia. His physics research was on nuclear reactions and was highlighted by the discovery of the Giant Spin-Isospin Resonance in heavy nuclei in 1973 and by pioneering experiments in medium-energy heavy-ion reactions in the late 70ís. His early work at Texas Instruments was on SRAM, DRAM, and NMOS/CMOS device physics and process-flow design. Management responsibilities during his first 10 years at TI included advanced lithography and plasma etch as well as CMOS and DRAM technology development.
Dr. Doering is an IEEE Fellow and chair of the Semiconductor Manufacturing Technical Committee of the IEEE Electron Devices Society. He is also vice-chair of the National Research Council Board of Assessment for the NIST EEEL Laboratory. He represents TI on many industry committees, including: the Technology Strategy Committee of the Semiconductor Industry Association, the Board of Directors of the Semiconductor Research Corporation, and the Corporate Associates Advisory Committee of the American Institute of Physics. Dr. Doering is also one of the two U.S. representatives to the International Roadmap Committee, which governs the International Technology Roadmap for Semiconductors. He has authored/presented over 150 publications and invited papers/talks and has 20 U.S. patents.



Disclaimer
Last modified: Arpil 29, 2004
© MIT Lincoln Laboratory. All rights reserved.