HPEC Presentation/Poster Format Guidelines
Workshop dates:
15–16 September 2010
Banquet date:
15 September 2010
Abstracts submission deadline:
20 May 2010
Notification of acceptance:
25 June 2010
Copyright Release form due:
9 August 2010
Disclosure Authorization form due:
9 August 2010
Foreign Visit Authorization form due:
6 August 2010
Registration and Banquet forms due:
($TBD Workshop only; $TBD Workshop and Banquet)
3 September 2010
All presentations will be videotaped for MIT Lincoln Laboratory archival purposes only. If you do not want your presentation to be videotaped, please email the HPEC Workshop Office at hpec@ll.mit.edu by 21 August 2010.
---
The workshop sponsors and participants appreciate clear and legible presentations. In addition, the presentations themselves will constitute the published proceedings. Therefore presenters are required to submit charts of the highest quality. Toward the goal of consistent quality and legibility, we ask that presenters adhere to the following guidelines when preparing their presentations and posters.
ALL materials that are presented in the US ONLY Session are required to be properly marked.
PRESENTATIONS AND POSTER PRECIS
Typeface
Recommend setting regular text using a bold 20-point font. A bold sans serif font such as Helvetica is preferred for its readability in a large auditorium. Other sized fonts may be used as necessary, such as bold 28-point for titles, bold 18-point for sub-points, etc. Do not use a font size 12-point or smaller. Always use bold fonts.
Format
The display area measurements for your electronic presentation/poster précis are 7.5' tall by 9.5' wide. Orient the viewgraphs horizontally (i.e., in landscape mode).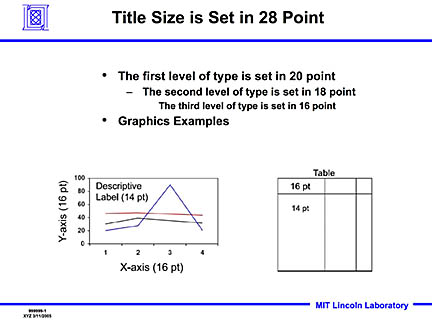 Posters
Total available poster board area: 3' 4" tall by 6' wide. Poster(s) must be oriented horizontally (landscape) for the best utilization of the available poster board area. A title banner will be provided by Lincoln Laboratory. The title banner includes the poster title, name(s) of the author(s), and the author affiliation(s).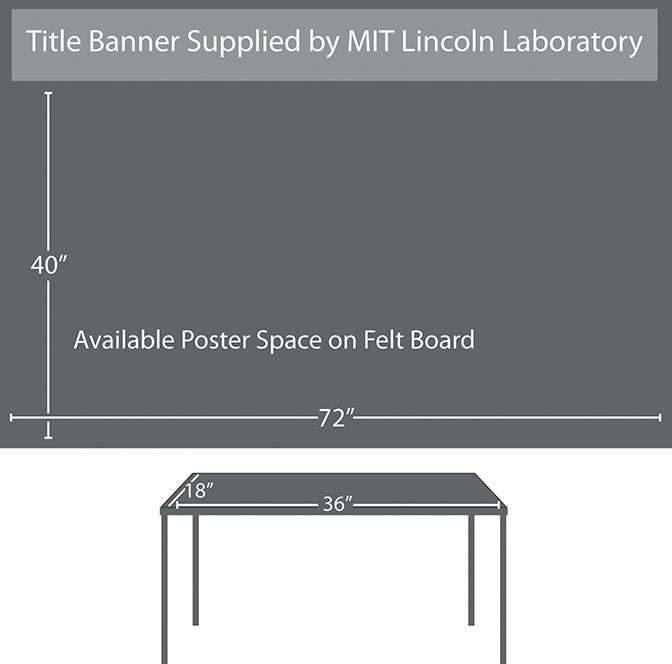 MIT Lincoln Laboratory will provide pins and velcro to facilitate mounting the poster(s) on the felt-covered poster boards as well as a 3' by 5' skirted table in front of your poster board area. If your poster requires additional visual aids/resources, please email a detailed description of your poster set-up to hpec@ll.mit.edu.
GRAPHICAL MATERIAL
Ensure that all images such as photographs, artwork, graphs etc., can be printed legibly. High contrast images are preferred. Ensure that all text appearing in the image is large and legible.
PRESENTATION / POSTER PRECIS AUDITORIUM LAYOUT
Electronic presentations will be displayed on a large screen behind the speaker by a professional projectionist. Speakers are provided with a podium, microphone, and laser pointer.
To assist the projectionist, electronic presentations / poster precis should be in Microsoft PowerPoint.